Annie Yam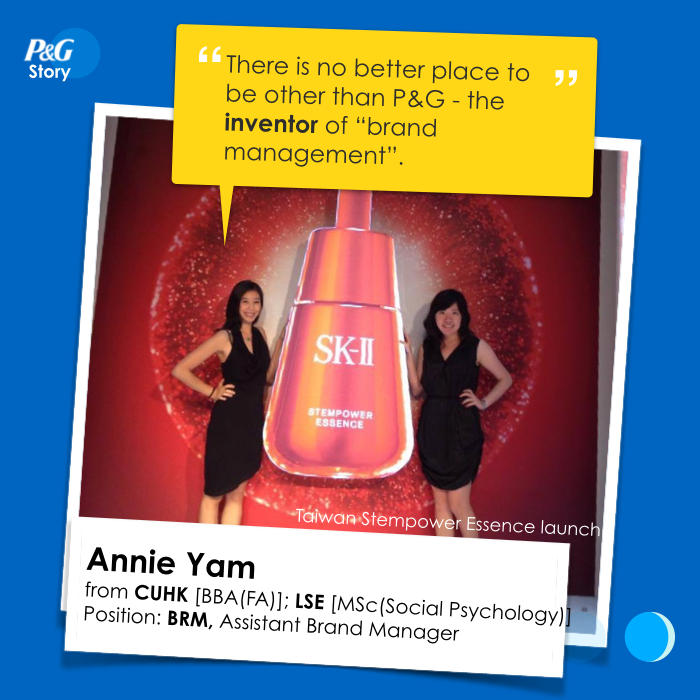 Chinese University of Hong Kong - BBA (Finance); London School of Economics – MSc (Social Psychology)
Assistant Brand Manager, SK-II, Hong Kong 
P&G Experience
Why did you choose P&G/What's the unique feature of P&G? 

P&G is the one and only graduate job that I had applied for. After several internships, I already knew marketing and brand management is my calling early on, and there is no better place to be other than P&G - the inventor of "brand management"!

The early responsibility was something I looked forward to – I am the brand owner and help shape the overall strategy since day 1.  I not only manage multi-million business, but also cook and launch marketing campaigns independently. The encouraging learning curve makes P&G truly second to none.

The international exposure and career is also a strong point of difference. As a native Hong Kong girl, I was relocated to Taipei to take on a fruitful SK-II assignment. The opportunity to work overseas and develop cross-market expertise in my early career is something that you could not dream of elsewhere!
How do P&G develop you as a leader in your expertise? 

Being in brand management, I have the honor to lead brand-based projects in collaboration with other functions since day 1, despite my seniority. On-the-job training with early responsibility helps me become a leader quickly in my expertise. Marketing and communications training at P&G is also extremely thought-provoking.  After just a few days, I suddenly become an expert in communications critique!